Durable Paper Alternative
Ideal for customers looking for something more durable than standard paper but do not need all of the advantages of a full synthetic durable paper product, TriDura combines the print quality and foldability of traditional paper with durability unmatched by any traditional paper product.
When the printed material will be subject to changes in environment, but will only need to last short term, customers turn to TriDura water tolerant & tear resistant paper.
TriDura Durable Paper Gallery
Looking for something that is more durable than standard paper?
TriDura durable paper often replaces standard paper because it feels and prints like paper but is durable enough to withstand water and is tear-resistant.
Because of the unique construction of paper/polymer/paper, TriDura will run on almost any printer and also provides compatibility with flexo, litho offset, laser, digital, UV and inkjet printing.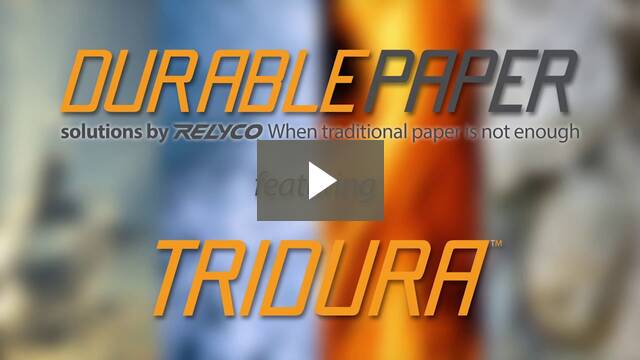 The Anatomy of TriDura Durable Paper
TriDura durable paper is layered paper with a synthetic core making it tolerant to water and tear-resistant. A polymer film core allows the durability of synthetic paper with the look and feel of regular paper.
TriDura combines the image quality, foldability and printability of standard paper with the durability and resilience unmatched by any standard paper. It can be folded, punched, glued, perforated, scored or die cut as needed, making it valuable for literally thousands of applications in a range of industries—including recreational, hospitality, retail, education, manufacturing, healthcare and government.
How to Select the Right Durable Paper for You
How the durable paper will be used is one of the best indicators of how you will choose between Revlar and TriDura.
Some things to think about before you choose:
How long will it need to last?
Will it be subject to rain and the elements?
Tear Proof vs. Tear Resistant
Handling & Durability
What type of printer is being used?
This chart will help you choose which paper to use for your application:
Features and Benefits
Durable, tear-resistant and tolerant to water

Withstands rain, heat and temperature variations
Ideal in a range of applications, from take-out menus to city guides to permits

Available in three weights

4 Mil Matte White (100 gsm)
7 Mil Matte White (150 gsm)
9 Mil Matte White (200 gsm)

Superior folding and image quality

The appearance, smoothness and printability of standard paper
Folds well in either direction and holds a tight fold

Cost-effective

More affordable and faster than lamination

Compatibility

Compatible with conventional flexo, litho offset, laser, digital, UV and ink jet printing

Environmentally Aware

TriDura is made with FSC certified papers
Client Stories
---
We knew Relyco would provide a high-quality product delivered at a competitive price and meet our tight timeline. We've never considered looking elsewhere, but I'm sure we would be hard pressed to find another vendor who could do the same.

Read&nbspMore

Assistant to the President and Chief Financial Officer, Cook Illinois Corporation